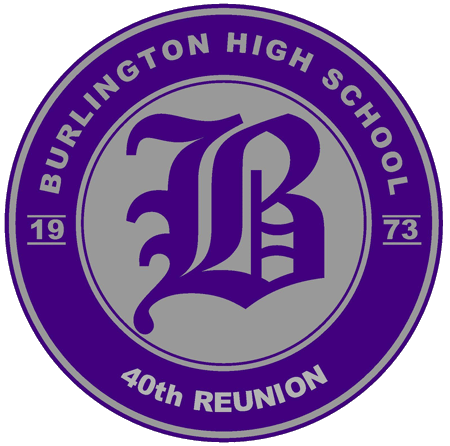 40 YEAR REUNION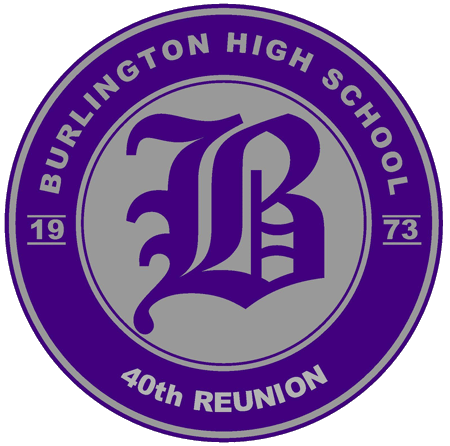 Enjoy BHS 2013 Homecoming with our class!

Headquarters for Reunion:
Comfort Suites
1780 Stonegate Center Dr.
Burlington, Iowa 52601
Phone: (319) 753-1300

A block of rooms for guests has been reserved: rate is $92/night.

Registration:
Click here for an Online Registration Form for paying with PayPal or Credit Card via PayPal.

Click here for a pdf Registration Form for mailing in your registration and payment.

Schedule of Events

Thursday, October 3
6 p.m. start time

BHS Homecoming Week Activities
Parade – watch the parade with classmates!

Arrive early and meet 4-5 pm at
2500 West Ave. (parking lot for West Avenue Baptist Church)




Following the parade:

Carnival, Bonfire, Pep Rally – Burlington High School,

421 Clearview Dr.
cafeteria, school grounds and gymnasium. Family & guests are welcome!
No admission fee.

Items will be available for cash purchase

.




Friday, October 4
Guided Tours of Burlington H.S. Start times: 9am, 10am, 11am




Friday, October 4
4:45 pm Sophomores
7:15 pm Varsity
BHS Homecoming Football Game – Bracewell Stadium
Enter Market St. or Division St. at Central Avenue.


Limited parking; carpooling is encouraged.

Family & guests are welcome!


Purchase tickets at gate or call Athletics office (319)753-2211.


Tickets:

Adults $6, students $5.

Special seating has been arranged for our class!

Friday, October 4

Post-game Gathering - Meet at "the Nook", Comfort Suites

Saturday, October 5


6 p.m. – midnight

Class of '73 Buffet Dinner, Program, Dance - Comfort Suites


1780 Stonegate Center Dr. (Hwy 61 South) (319)753-1300
$35 per person (See RSVP and payment information below)
Cash bar. Casual business attire


Sunday, October 6
10 a.m. – 2 p.m.

Family Brunch – Comfort Suites
1780 Stonegate Center Dr. (Hwy 61 South)

(319)753-1300

casual attire


Family and guests are welcome!

Private dining room will be provided.


No reservations needed.

Cost is responsibility of each participant.


Note:

The committee reserves the right to charge a higher price at the door for events requiring prepayment.

Questions?
Visit the reunion website at www.bhs73reunion.info, or send an email to: bhs73reunion@gmail.com.

Robin Bergquist York (319) 754-0835, Sherry Suchy Sharp (319) 752-0156, Merrie Tabbert (214) 790-3392

Registration address:
BHS Class of 1973
1603 Silverleaf Ave.
Burlington, Iowa 52601

Coming soon!


Reunion T-shirts custom-designed by your classmates

!

Web site issues/questions?
Contact Dave Lotz